While it is true that a good quality $50 Bluetooth speaker will no doubt sound incredible, it doesn't mean that there aren't cheaper options for people who want to save money. If you're looking for a Bluetooth speaker that doesn't suck but also doesn't cost you hundreds of dollars; here's a list of our best Bluetooth speakers under $30.

| | |
| --- | --- |
| Product Name | |
| OontZ Angle 3 | |
| Anker Soundcore | |
| DOSS Touch Wireless Bluetooth | |
| AOMAIS Sport II | |
| Tribit XSound Go | |
| VicTsing C6 | |
| Rokono BASS+ Mini Speaker | |
| Vanzon X5 Pro | |
| ZoeeTree S1 | |
| A2 LENRUE | |
List of Top Portable Bluetooth Speaker Under 30 Dollars
1. OontZ Angle 3 (3rd Gen) Portable Bluetooth Speaker
The Oontz Angle 3 is a great little speaker to keep in your backpack for anyone looking for an inexpensive alternative to low-quality phone and tablet speakers. There are also a lot of laptops don't have the best speakers, built-in speakers. When comparing it to other Bluetooth speakers, it has little advantages, other than the price. Other speakers within the price range have better water-proof ratings, but not as long battery life. One thing that the Angle 3 has that small speaker don't is stereo-quality sound. Cambridge SoundWorks squeezed in two precision drivers and a bass radiator. This is rare in affordable speakers; It's hard to design a small speaker packed with so much technology that doesn't sound muffled and muddled. If you are looking for a cheap first-time-buying option, this is perfect. Considering the price, the size, and the sound quality, among its other features, it's a speaker that's very much worth its price tag. We give this speaker a rating of 4 out of 5.
2. Anker Soundcore Bluetooth Speaker
The Anker Soundcore is without a doubt one of the best speakers you can get if your upper limit is $30. The sound-to-size ratio is great and it has the sound quality of a speaker twice its size. That said it doesn't get s loud as that hypothetical speaker, but it gets loud enough that if you're having a dinner party it should be sufficient. If you're in the market for good quality at a decent price, this is the way to go. 24 hours of constant playback is a bold claim to make and Anker delivers on that promise without sacrificing what makes their products so good: good quality and good prices.
3. DOSS Touch Wireless Bluetooth V4.0 Portable Speaker
The DOSS Touch Wireless Bluetooth V4.0 Portable Speaker features slick looks and high quality sound, as well as an impressive 12-hour battery life at 75% volume, so you can chill out all day to your favorite music.
If you are looking for an affordable, handy, and portable speaker that can link with your Bluetooth-enabled smartphone or device, the DOSS Soundbox Touch may be the right choice for you. The Touch is suitable for home and business use.
The DOSS Touch Wireless Bluetooth V4.0 Portable Speaker is super easy to use and features a surprisingly robust sound for its size. With excellent volume range and sleek touch controls, it's a very cool piece of equipment worth checking out.
4. AOMAIS Sport II Portable Wireless Bluetooth Speakers
The AOMAIS Sport II is a bit of a hidden gem. The manufacturer isn't one of the most well known brands, but they offer something that very few do – quality. Consumers are willing to pay a premium for name-brand merchandise because we know that it will be well made. But the Sport II is one of the few offerings that gives you brand-level quality for a surprisingly low price.
For certain uses, this speaker could be a great choice. We'd recommend it to anyone who wants to use it outdoors, and likes their music loud. With two large drivers totaling 20 watts, the impact and presentation of the music is several times more powerful than most of the speakers we're used to listening to. The size of the speaker means that AOMAIS was able to reinforce it, creating something that is much more durable than most options on the market.
5. Tribit XSound Go Bluetooth Speakers
Many people just want a Bluetooth speaker that sounds better than their phone's built-in speakers, that can follow them wherever they go, and it would be nice if the price point meant losing or breaking it wouldn't be tear-inducing. The Tribit XSound Go checks all of those boxes. It sounds fairly good, is lightweight and IPX7 waterproof, and is one of the least expensive speakers out there. Sure, this speaker doesn't provide audiophile-approved sound quality, but it is more than capable of serenading some friends soaking in a sunset or relaxing on the beach. It also lasts 18.5 hours on a single charge, so you can keep the party going into the wee hours of the night.
Honestly, the XSound Go is so good, and so incredibly cheap, that it becomes the very first product that we can recommend without any reservation. Seriously, the only issues we had with it were very minor. Its giant battery (the one that gives it 24 hours of playback time) takes a long time to charge, at least four hours, or longer than your smartphone and laptop combined. And the controls are a little hard to see, given that they are the same color as the body. But otherwise, the XSound Go is a perfect low-cost sound machine!
6. VicTsing C6 Shower Speaker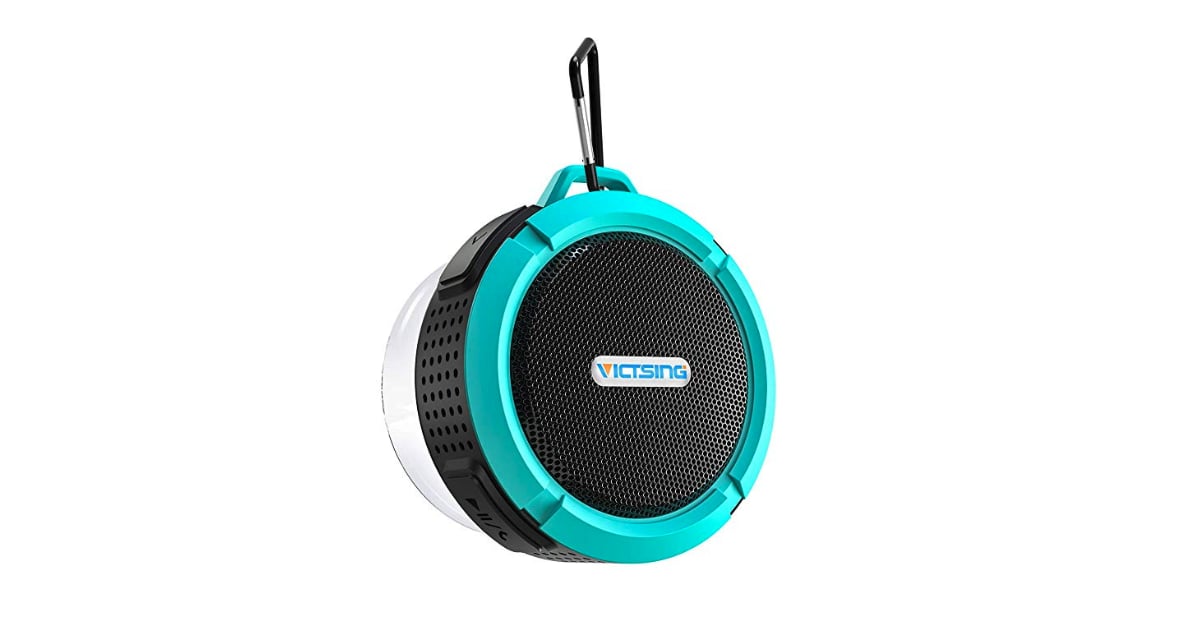 This is the best-selling shower Bluetooth speaker on Amazon for good reason. It is water resistant, shockproof, dustproof and can go just about anywhere you can. It has both a super strong suction cup for the shower and a metal "D" clip for hanging from your belt or backpack on a hike. The built-in battery is rechargeable and lasts six hours at 70% volume. An automatic shut-off function protects your battery's charge against your own negligence. The Bluetooth is responsive up to a lengthy 30 feet, so your devices can remain a safe distance. With a hands-free function, you don't have to fear missing phone calls. You can even change the music without touching a thing. The sound quality is awesome. Bass and treble are both clear, and the 5W power output offers lots of volume. The VicTsing comes in five fun colors: army green, grey, red, yellow, and light blue. You're sure to find one that fits your personal style.
The only downside of this speaker is that it is not actually waterproof; it is water resistant. This means it cannot be completely submerged in water. While you could spray it with a shower hose, it probably won't recover if dropped in water. Make sure that suction cup is secure!
7. Rokono BASS+ Mini Speaker
The Rokono BASS+ mini speaker is a rechargeable audio device producing loud, clear audio which defies it's compact size. The speaker has a 40 mm driver, which produces a big, clear sound for such a compact device. Also a strong and clear bass response, allows you to enjoy your music as it should be heard. This is achieved by the speakers expandable bass chamber.
The Rokono BASS+ mini speaker arrives in premium, 100% recyclable gift packaging that makes a great first impression. Apple iPhone, iPad, iPad Mini, iPod, Android Phones and Tablets, Laptops, Computers and any other device with a 3.5mm earphone port.
8. Vanzon X5 Pro Bluetooth Speakers
This small Bluetooth speaker will bring you a clear, rich listening experience. All-day play and waterproof design more convenient for your travel or adventure. Bring it and share your music with your partner.
I am really impressed with it for the price of this speaker. I can't yet speak to the battery life of it, but the sound quality is clear, and I am very happy with the bass. If you hold it in your hand while you have a bass heavy song, you can feel the clear rumble. The bass has no rattle to it like a lot of the cheap speakers I've heard. And it gets quite loud, while still sounding really nice.
9. ZoeeTree S1 Wireless Bluetooth Speaker
For the price, it's truly hard to beat the ZOEE S1 Bluetooth Speaker. It's packed with a lot of great features and seems to compete with other models we've reviewed that cost twice as much. Whether you use it for the casual weekend listen or constant daily use, it seems to have no trouble producing high-quality music that everyone can appreciate. Sure, the bass isn't the most incredible we've ever heard, but it's readily available with a negligible amount of distortion.
10. A2 LENRUE Portable Wireless Bluetooth Speaker
The LENRUE Portable Wireless Bluetooth Speaker is imbued with the latest 4.1 Bluetooth technology that is compatible with most Bluetooth-enabled devices, including iPhone, IPad, MacBook, as well as Android smartphones. Moreover, having been designed exceptionally, with warm lighting down below, and the controls as well, this speaker is a compact device that offers quality sound for most occasions.
Overall, this wireless speaker offers the best within the budget, they are low-cost medium-end sound quality Bluetooth speakers which provide decent sound quality. Additionally, the multiple connectivity features make it the best overall as it is highly dependable. The battery length is, however, little but the good thing is that it can be used while charging.